Applied Anthroposophy and LiT Forums Open House
10/25/2022 10:00 AM - 10/27/2022 08:30 PM ET
Description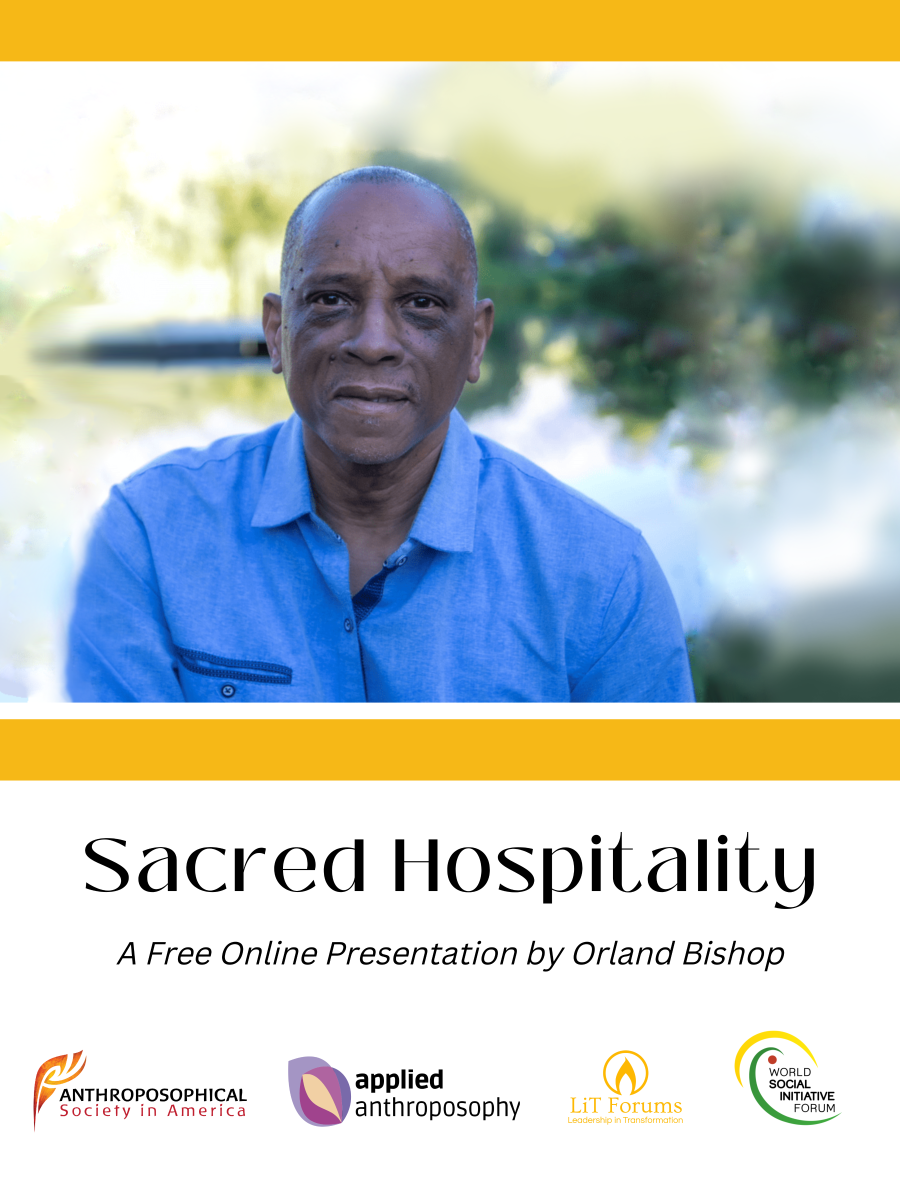 Sacred Hospitality
Online, October 25 and 26, 2022
A Free Presentation by Orland Bishop
Join us as we celebrate the commencement of two exciting yearlong courses with a talk from Orland Bishop. Orland will offer this enriching presentation on sacred hospitality twice. This will both offer us the opportunity to deepen our understanding of this topic and give us a glimpse into what these two courses have to offer!

Orland Bishop's offerings towards cultural renewal draw on his practice in African Gnosis, Anthroposophy, and Indigenous Cosmologies, such as the South African tradition of Indaba, "deep talk."
The Anthroposophical Society in America's Applied Anthroposophy Course embarks upon its third yearlong track with its Opening Ceremony on October 19th. Orland's talk the following week will be the first of many engaging presenters to speak this year!
Simultaniously, our international friends at the World Social Initiative Forum will commence their yearlong course, Leadership in Transition (Lit Forums), with this lecture from Orland.
---
Event Information
This lecture will be offered twice, once for each course. You are warmly invited to attend either lecture.
For the opening of LiT Forums:
October 25th at 4 PM Central European Time / 10 AM Eastern / 7 AM Pacific
For Applied Anthroposophy's first Seed Series:
October 26th at 1 AM (+1) Central European Time / 7 PM Eastern / 4 PM Pacific
*The presentation will be recorded and sent out to all participants within 72 hours.*
Our hope is that this free presentation will pique your interest in one or both of these courses. Registration will remain open until after the open house, should you choose to join us on either of these learning journeys!
Register here to join 'Sacred Hospitality' for free!
---
About the Courses
Applied Anthroposophy
Applied Anthroposophy is a course that explores how anthroposophy is alive and serving in the world. It is carried and created both for people who may be newer to anthroposophy and as a deepening for those who have been working with anthroposophy and wish to approach it with a sense of renewal. The online course is composed of two major components:
1) The Seed Series - weekly presentations on the themes Love, Freedom, Initiative and Service
2) Chrysalis Groups- themed research and discussion groups on a diverse array of topics
Full Program registration grants you access to all course components and materials. Or you can choose to register for the Seed Series: Weekly Presentations only. Financial assistance to join this course is available to whoever needs it.
For more information please visit:
www.appliedanthroposophy.org
LiT Forums
Leadership in Transformation (LiT Forums) is a weekly program taking place from the 25th of October, 2022 to the 20th of June, 2023 via Zoom. It will be followed by an optional hybrid conference in July 2023, simultaneously taking place online and in-person at Ruskin Mill Trust UK.
The LiT Forums are designed for an international cohort of individuals who are already on a path of inquiry toward healthier relationships with Self, Community and Planet Earth. We will investigate 'Leaderful Practices for Societal Metamorphosis' through practices born out of Spiritual Science. The program is made up of four quarters, each guided by a question pertaining to how we tune in as individuals to the Good that wants to become in the world.
For more information please visit:
Register here to join for free