September 26, 2021
Dear Members & Friends,
Building the Temple of the Heart, our fall conference, is only days away now, including the annual meeting on October 7th; you can register for that evening alone at no cost. The new Applied Anthroposophy Course registration closes soon. The APO Walkathon has been unfolding this weekend; you can still donate. As always, the autumnal Michaelmas season of the year brings a lot of cultural activity.
For Society members we also want to remind about an email you should have received: an invitation to a Michaelmas Day tour (Sept 29th) of the Goetheanum. It ends with a talk by Peter Selg from Rudolf Steiner's studio, where his last work was done. If you were thinking of becoming a member, this might be an incentive.
Photographically it is time to focus on our animated friends, who bring consciousness, astrality, movement into nature's world; again, the photos are from Dwight Ebaugh. — For our visual elements going forward, we would be glad to hear from other visual artists willing to share "details" of larger works in the 680 by 300 pixel format.
AAC 2021-2022
We don't want this biweekly email to become too much of an advertising flyer, but the experience offered by the new year of the Applied Anthroposophy Course (AAC) seems really quite extraordinary.
Anthroposophy has two very great resources: the dynamic and vital ideas and ideals brought by Rudolf Steiner and many others since, and the people who practice it. How could something called "anthroposophy" not be, if successful, an oasis where self-aware and engaging individuals gather?
A wonderful recent email from the AAC team, Tess Parker, Angela Foster, and Jordan Walker, named the first semester "seed series" guides: Brian Gray, Laura Summer, Seth Jordan, Julia Porter, Alex Tuchman, Chris Burke, Anne de Wild, Megan Durney — and linked further to a faculty page that adds Bastiaan Baan, Lisa Romero, Patrick Kennedy, Séamus Maynard, Jaimen McMillan, Orland Bishop, and Sea-Anna Vasilas, with still more to come.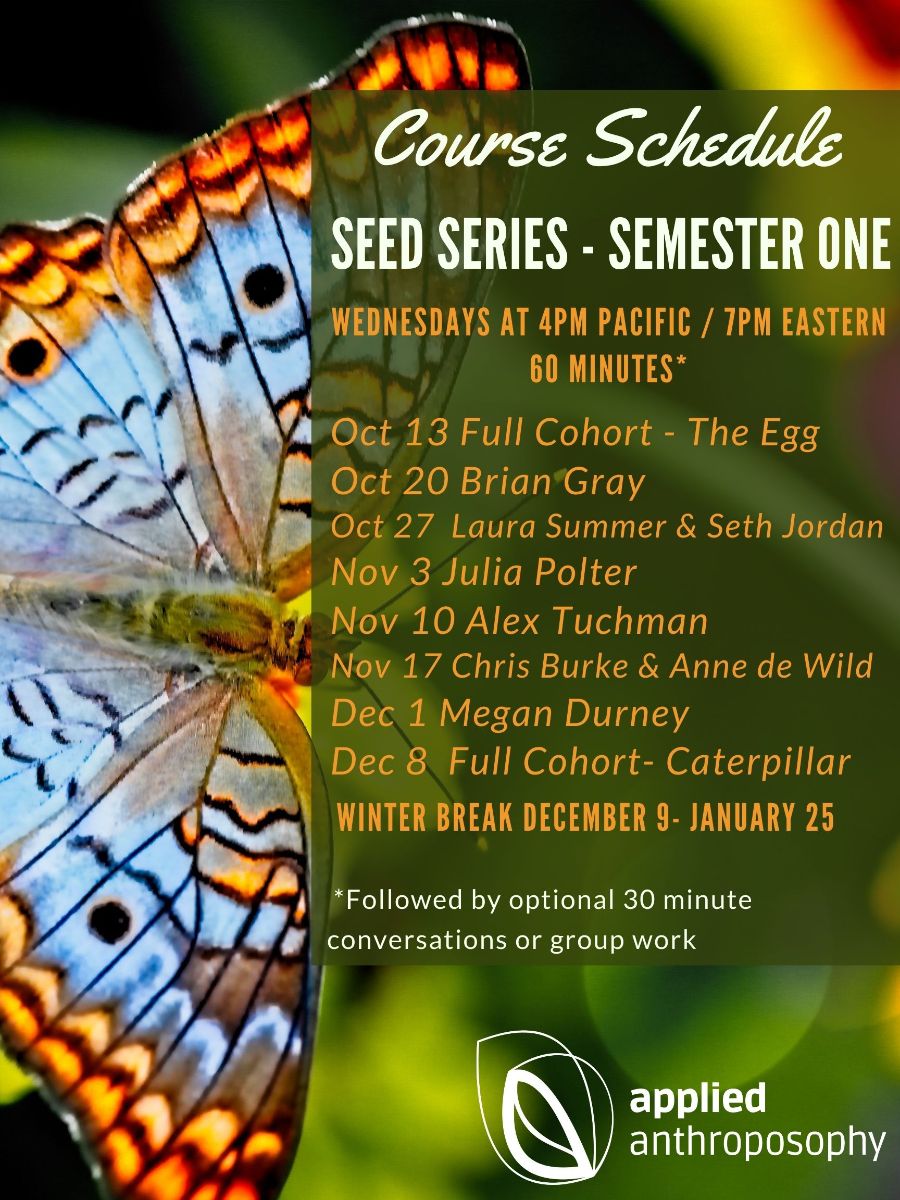 What is specially appealing about this list is the mix of individuals who have lived anthroposophy very fully, applying their humanness deeply for several decades, with others, younger, whose well-honed sense of purpose is still unfolding. Great ideas and earnest, committed people working together with open hearted free spirits. This imagination lights up the moral rainbow, those futures which can fully express our core humanity.
The first year of this AAC was a wonderful suprise, and the team has organized a follow-up that is equally for newcomers and a continuation for those from the first year who want more.
Constellations like this have come together before, with the extra demand of physical presence. Really, do take a look. Here's the letter, with all the links that explain the flexibility of "seed series" versus full program, as well as the financial options and assistance available.
AUTUMN
Verbal art, abstracted though it be into little ink-marks or patterns of phosphorescent pixels, has power to awaken and sharpen the other senses. Virginia Woolf spoke of a couching operation performed by great literature, using the old term for removal from the eye of lenses clouded by cataracts.
John Keats is not forgotten two centuries later, for words such as this first stanza of his ode "To Autumn":
Season of mists and mellow fruitfulness,
Close bosom friend of the maturing sun;
Conspiring with him how to load and bless
With fruit the vines that round the thatch eves run;
To bend with apples the moss'd cottage trees,
And fill all fruit with ripeness to the core;
To swell the gourd, and plump the hazel shells
With a sweet kernel; to set budding more,
And still more, later flowers for the bees,
Until they think warm days will never cease,
For Summer has o'er brimm'd their clammy cells.
Haven't you seen such giddy bees?
And for the night side of this season that leads us on toward Halloween and Thanksgiving there is the earlier (1788) sonnet of Samuel Taylor Coleridge: "To the Autumnal Moon"
Mild Splendour of the various-vested Night!
Mother of wildly-working visions! hail!
I watch thy gliding, while with watery light
Thy weak eye glimmers through a fleecy veil;
And when thou lovest thy pale orb to shroud
Behind the gathered blackness lost on high;
And when thou dartest from the wind-rent cloud
Thy placid light'ning o'er the awaken'd sky.

Ah such is Hope! as changeful and as fair!
Now dimly peering on the wistful sight;
Now hid behind the dragon-wing'd Despair:
But soon emerging in her radiant might
She o'er the sorrow-clouded breast of Care
Sails, like a meteor kindling in its flight.
Anthroposophy adds to this the Michaelmas thought that the human being, when risen again in consciousness by free choice, can be safely laid back, again and again, into the grave of Earth, to further its evolutionary course.
DR. SELG TO DR. PAGE
Christiane Marks translated and shared with us some time ago a May entry in the German-language magazine Das Goetheanum. In it Peter Selg greeted Dr. Traute Page on her 102nd birthday, offering in salute a 1924 birthday poem by Rilke, Handinneres ("Palm of the Hand") also ably brought over into English by Christiane Marks.
EURYTHMY UPDATE
The movement art of eurythmy has been strongly affected by the pandemic, and it is good to see it coming back into real space.
Online, Cynthia Hoven has pioneered online eurythmy as a personal practice, and continues to build new offerings on her site.
At Eurythmy Spring Valley a new cohort of part-time "Frontier Eurythmy" training is forming soon. Details are here.
At the New York branch, Linda Larson has new monthly workshops, as does Andrew Dzedulionis in LA. These seem like harbingers of local offerings by individual teachers, so check with your local branch or eurythmist for their plans.
THE NEW FIVE COLLECTIVE
Cedarwood Waldorf School in Portland, Oregon, has been creating and perfecting an exhibit space for visual arts, The Art Hall. The New Five Collective were exhibiting when the pandemic closed the space, and it is open again now through Oct 2nd with a new show by these artists: MJ Connors Davison, Robin Lieberman, Patricia Homan Lynch, Jannebeth Röell, and Jenny Siegel.
The New Five Collective borrow their name from early abstract artist Hilma af Klint's esoteric meditation group. The exhibit is "For the Love of Trees, and other works of art." A portion of all sales will be donated to Friends of Trees. Cedarwood Waldorf School is at 3030 SW Second Avenue, Portland, OR 97201; contact Robin Lieberman at 503-222-1192 for visiting hours.
Robin writes, "After thriving through more than a year of hybrid learning during the pandemic, Cedarwood Waldorf School reopened its doors fully to students and faculty this September... The space is now complete with a beautiful gallery-grade lighting system. We have been saving artists' contributions and others' donations for eight years now in hope of achieving this goal. Earlier on, a generous parent installed a gallery level hanging system, for which we will forever be grateful... For the Love of Trees was imagined and manifested over many months during the first year of the pandemic... We hope to host a closing reception on Friday, October 1st, to include artists' presentations usually slated for our opening."
CHANGES AFOOT
Council Chair Helen-Ann Ireland has a new blog post detailing changes in the ASA General Council, whose volunteer members represent the three regions, serve as a board of directors for the ASA as a non-profit organization, and through study and conversation carry consciousness for the life of anthroposophy across the USA.
A QUESTION
Is there a German-language study group in the USA? Someone asked, and we couldn't say. Please let us know at editor@anthroposophy.org.
SILLY?
A certain number of bumper stickers saying "anthroposophy" with the lemniscate (a.k.a. infinity symbol) have been given out at conferences. Margaret Runyon sent in a picture of her bumper and suggested we solicit others — "Just a summer fun suggestion!" If you have such a sticker, send a photo, perhaps with a summer travel background, or a bit of a story.
We recently had our car, still with California plates, towed to a transmission shop in rural Pennsylvania. The proprietor inquired cheerfully before the towing whether this CA car had any bumper stickers. Yellowstone and anthroposophy, we replied. What's the anthro thing? Schools and farms and health and spirituality, we said. Oh, that's nice; you'll have to tell me more sometime. — Silly, by the way, is cognate with German selig, meaning blessed, happy, blissful, which is how we felt when the transmission problem turned out to be a small, broken piece of yellow plastic in the gear shifter.
THE OCTOBER CONFERENCE
Our "hybrid" national conference, co-produced with the Central Regional Council, is a rich and imaginative and interactive presentation. It is also a bit more complicated, offering access for all online with added face-to-face gatherings in at least six locations. You should do a little planning now!
Here is the general information and link to the national registration. Please register here first, for the full conference at Supporter, Regular, Member, Youth or Equity rates, or for just the annual members meeting Thursday evening, Oct 7th, which is free.
Then you can look into possible face-to-face options in LA (Pasadena), Sacramento (Fair Oaks), CA, Decatur (Atlanta), GA, Chicago, IL, Durham, NC, Spring Valley, NY, or Portland, OR. This document has links or contact information for the local sites.
I hope to see you at least online!
Thank you for reading, and be well!
John Beck
Editor, being human
editor@anthroposophy.org
Anthroposophical Society in America
Quick link:
Check the event calendar or submit your own events.
The 2021-2022 Applied Anthroposophy Course starts Oct 13th, so registration closes soon...
Register for our fall conference (Oct 7-10) "Building the Temple of the Heart" with keynotes from Dr. Michaela Glöckler, Brian Gray, and Michael Lipson.
Anthroposophical Prison Outreach's Walk a Mile in my shoes wraps up today, but you can still donate here.